Learn How To Sell Your Puppies FAST … With This
ULTIMATE Puppy Selling Guide

.
Attention Dog Breeders: Sell

ALL

Your Puppies,
Within 1-2 Weeks, To LOVING Homes,
And Earn $1,000's More In Sales

  …. GUARANTEED !!!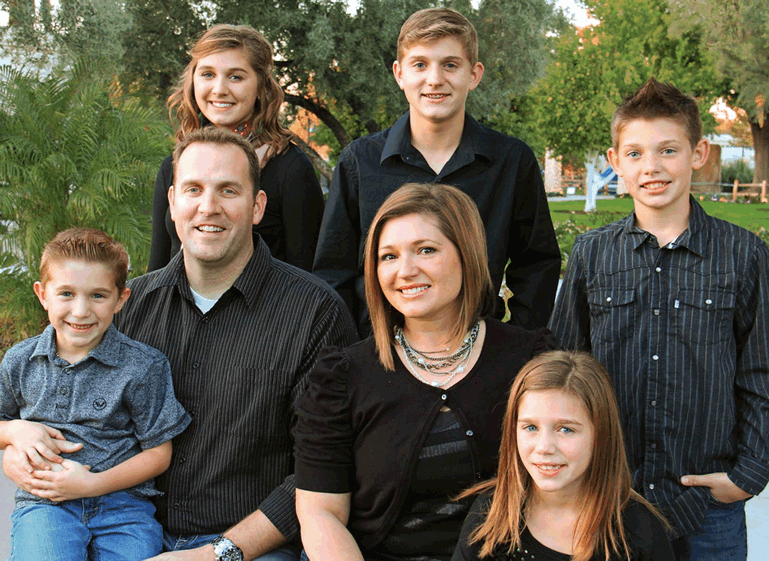 Dear Dog Lover,
If you're reading this right right now then you've either …
sold puppies before…
or …
want to sell puppies in the future …
and you're thinking…
How can I sell them FAST to loving homes, AND get Top Dollar?
"Discover The Most Powerful Tips, Tricks and Strategies I Learned From Over a Decade of Helping Family, Friends and Relatives Get Their Puppies Sold Online and Offline" – Andrew White
You don't really want to give them away…
You worry they might end up in the hands a negligent, or worse, abusive owner… in which case your helpless little puppies might suffer for the rest of their lives.
What about sending them to the shelter?
Nope, that's not a good idea!
In fact, a dog shelter manager recently revealed a shocking truth:
"Your pet has 72 hours to find a new family from the moment you drop it off. Sometimes a little longer if the shelter isn't full and your dog manages to stay completely healthy. If it sniffles, it is euthanized. Your pet will be confined to a small run/kennel in a room with other barking & crying animals. It will have to relieve itself where it eats and sleeps. It will be depressed and will cry constantly for you." – Anonymous Dog Shelter Manager

Think that's sad? Absolutely.
Now you know why many pet owners consider the shelter only as a last resort, most (like you) DON'T even consider it an option at all.
So, that pretty much leaves you with just one choice…
Just ONE option…

To Find

Your

Puppies A Nice, Loving Home!
But how?
Where do you start?
…Believe it or not, it starts with placing a high price tag on your puppies.

Yes, you heard that right…
One of the most important things you can do to ensure your puppies move to a nice, loving home is to price them HIGH… not low.
Why?
Because based on decades of selling many different breeds of puppies, I've found that giving away for free or selling your litter cheaply almost always result in attracting the WRONG BUYERS.
People who are not willing to pay top dollar for a purebred pup – have absolutely "no business" taking care of your puppies. Right?
Listen:
It doesn't matter what breed of puppies you have…
… where you live …
… how little you know about selling online or offline…
… or how desperately you need to give your puppies away.
You can easily have your litter bought by a responsible owner who is more than happy to pay a premium price for your puppies.
You Must Know What to Say, and Do.
Just as important, you must know what NOT to do.
We'll get to all that in just a moment.
First let me just introduce myself…
My name is Andrew White, and like you, I love dogs.
I've had litters of puppies my entire life – Boxers, Rhodesian Ridgebacks, Labrador Retrievers, Mastiffs, German Shepherds, Rottweiler's and Shih Tzu's.
I know the Shih Tzu doesn't really go with the rest of those breeds but that's what having a teenage daughter will do to you!
You see… having researched, tested and optimized puppy advertising over the past few decades, it still SHOCKS me to see how horribly people are advertising their own puppies.
I see …
… ho-hum pictures …
… wrong prices…
… not offering buyers the "whole package"…
… not even knowing the First and perhaps most important thing when it comes to selling puppies…
… and worst of all…
Giving their puppies away.
The truth is, nothing does more to attract the wrong kind of buyers than giving your pet away for free, ESPECIALLY to people you've never even met.


Because you simply don't have to!
Here's the thing:
If you are unable to take care of your puppies for whatever reason… whether you're moving house, your bitch unexpectedly got pregnant, or you just don't have the time, energy or space…
Then I can show you how to sell them to the right owners, right now at premium prices.
Earn $1,000's MORE In Sales With This Guide!!!
Listen to this TRUE story:
Some years ago, my brother decided to get a beautiful German Shepherd.
He ended up breeding her with a very nice male German Shepherd and had 7 very nice, healthy puppies. The puppies were about 9 weeks old before he came to me for some help.
He had been advertising the puppies for 2 weeks at $700 each and had not sold one puppy. He was ready to just give the puppies away for fear that he was going to end up with all these puppies and never sell them.
I came over and took some more pictures, I re-wrote the ad and posted it on a couple new sites.
I increased the price to $900 to $1000.
My brother thought I was crazy… but knew I had always been successful so decided to show a little faith.
The new ad was posted on Friday morning, by Saturday night…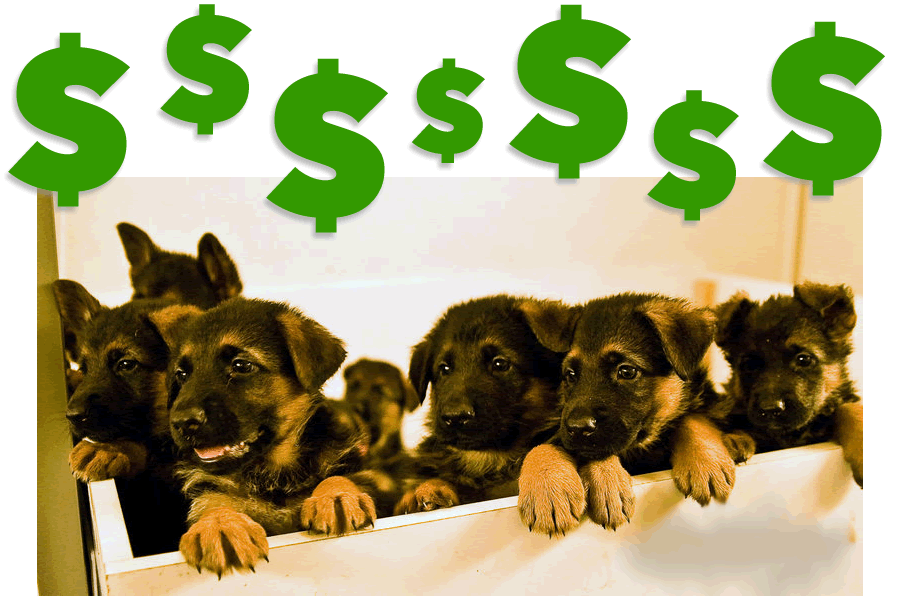 All 7 Puppies Were Sold at $900 to $1000!
Needless to say my brother was thrilled.
Not only had he sold all the puppies and for even more than he had originally wanted… but also he was happy because of the quality of buyers that purchased his puppies.
Years later, he's still getting pictures and emails with updates on these puppies.
He has had a few litters of puppies since that first experience
On the next litter, he was smarter and called me a lot sooner.
We were able to get even more for the puppies and they were all pre-sold. I realized that I could "teach my brother to fish" instead of doing everything for him. He was excited to learn and his last litter he did a fantastic job all on his own.
The puppies went for even more – $1200 each and again were all pre-sold.
His success brought me so much joy… that it inspired me to teach others a unique step-by-step method which would allow ANYONE to sell their puppies quickly.
And trust me…
It works. I guarantee that it works.
It has already worked for dozens and dozens of litters. The puppies are always sold at top dollar and are all sold within one to two weeks.
Earn $1,000's MORE In Sales With This Guide!!!

The Quickest, Easiest Way to Have Your Puppies Sold to the Right Buyers at Premium Prices – Guaranteed!!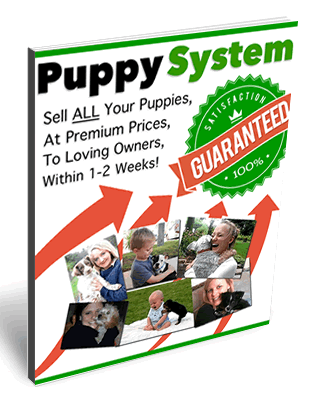 I've compiled everything I know about selling puppies in this reveal-it-all, step-by-step guide that shows you how to sell your puppies in 1-2 weeks or less… with no hassle… and at premium prices.
What's more…
You'll also discover my best puppy-selling tips, tricks and techniques I learned from decades "in the trenches" that will enable you to enjoy and profit from selling your puppies like you never imagined possible.
Don't know the first step to selling your puppies?
Not sure how to respond to interested buyers?
Can't figure out what price to set for your litter… or where to advertise?
It's simple!
Just go through the Puppy Advantage System, and I guarantee you'll have all your puppies sold in 1-2 weeks or quicker.
And remember…
The easy-to-follow instructions distilled in this guide can't be found online or at any bookstore, because they're based on years of personal success helping family, friends, relatives…
… and even a handful of private clients who went on to start their own successful puppy-selling business.
I've never revealed these secrets to anyone else before, but now you can get instant access to the Puppy System which includes: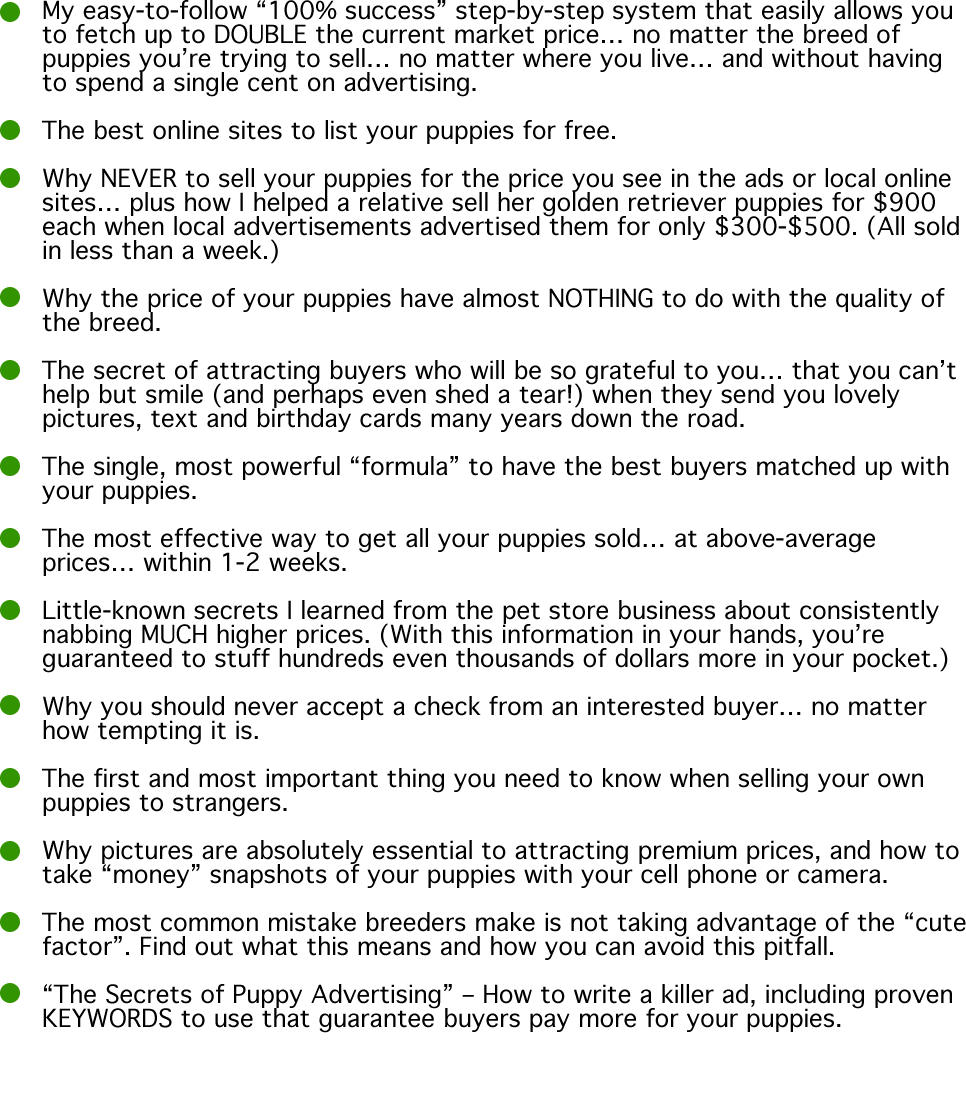 But that's not all…
Even though I've got you completely covered with the A-Z of selling your puppies, we'll also have fun with more advanced sales and marketing strategies.
Inside the Puppy Advantage System, you'll also discover: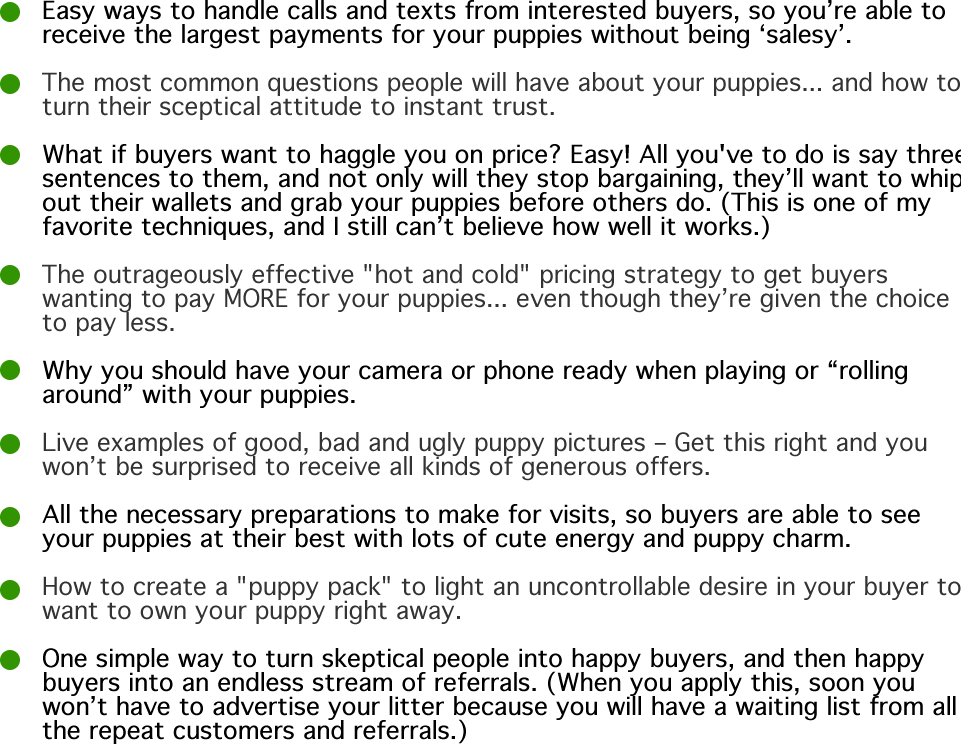 … and much, MUCH more.
Best part?
With the Puppy Advantage System, you won't have to spend a single cent on advertising or marketing.
You won't have to visit pet stores or hop around looking for places to sell your puppies.
And you definitely won't have to ask anyone else for help ever again.
Forget all the Hassle
I'm showing you a much smarter way to attract the right buyers fast… without fuss… and have your puppies sold at premium prices… to LOVING homes.
Just hear what customers are saying about the Puppy Advantage System…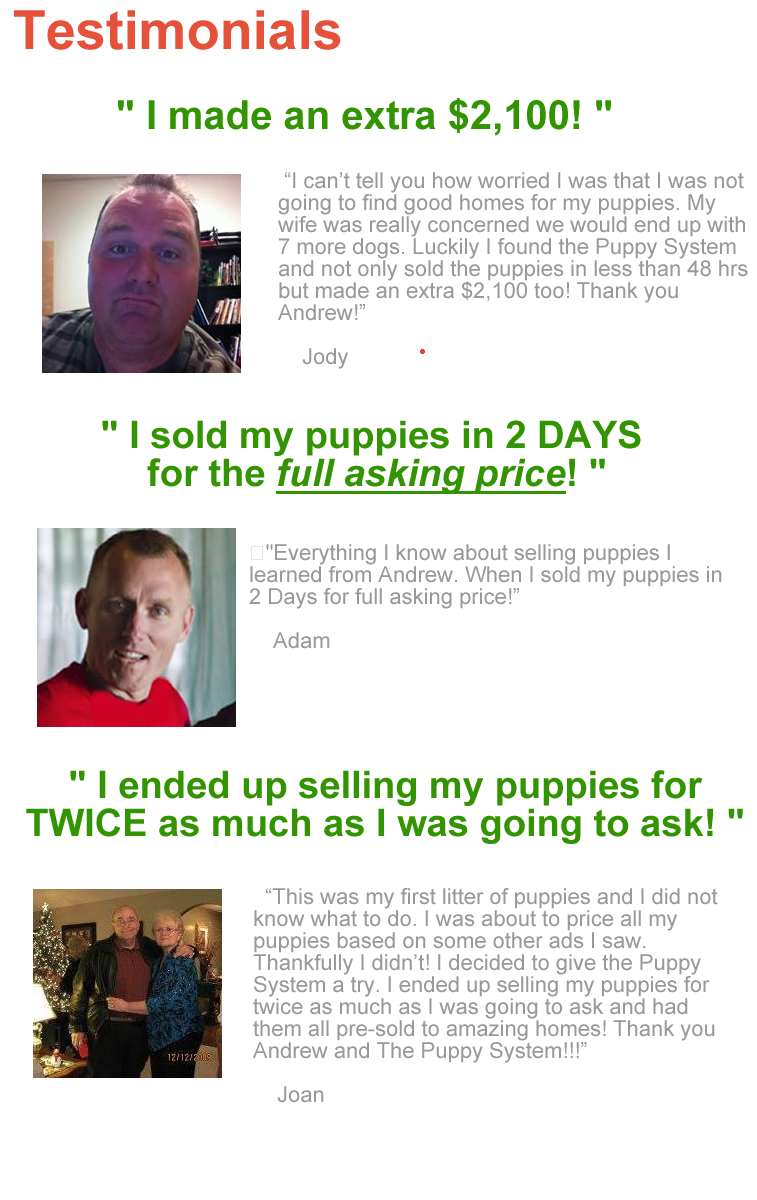 Yep, they're loving it…And because I know you, too, will benefit from the Puppy Advantage System, I've eliminated all the risk for you with a full money back guarantee.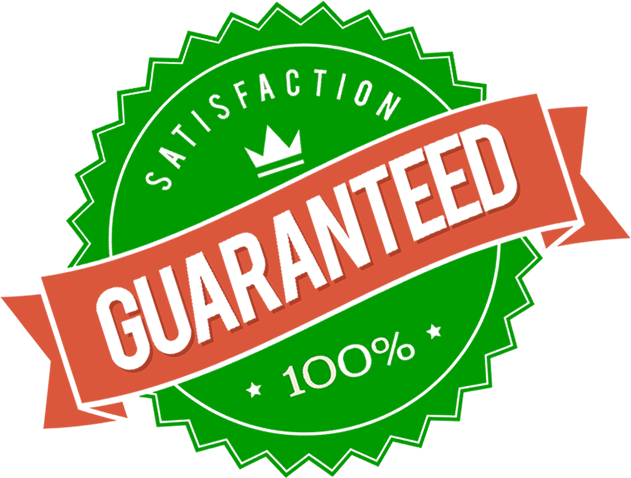 Your 30-Day 100% Money Back Guarantee

Use the Puppy Advantage System for a full 30 days at no risk. You must discover secrets, tips, tricks and strategies that you won't find anywhere else – not in bookstores, magazines, or any online resource. If you're not absolutely thrilled with the results… if you haven't sold your puppies 1-2 weeks later… or for any reason at all, just let me know for a prompt and courteous refund – no questions asked.
Sounds fair?
Puppy Advantage System not only eliminates any frustration or confusion you may have about selling puppies… but it also gives you complete confidence because you know exactly what to do and say to sell your puppies away.
On the other hand…
Without the Puppy Advantage System, you're almost certain to under-charge buyers and leave bushels of cash on the table. We're talking about hundreds, perhaps even… thousands of dollars.
Don't Miss Out On Hundreds Of Thousands of Dollars
… depending on how many puppies you're selling.
You may find yourself waiting weeks and months to have your puppies sold.
And last but not least… you may unknowingly attract the wrong kind of buyers who aren't going to give your puppies the best care they deserve.
So listen…
You don't have to make ANY of these innocent (and often costly) mistakes which most puppy sellers do.
Let me help you…
Just click on the button below and get the Puppy Advantage System now.
I guarantee you'll find selling your puppies quicker, easier, and more enjoyable than you ever imagined possible!
Earn $1,000's MORE In Sales With This Guide!!!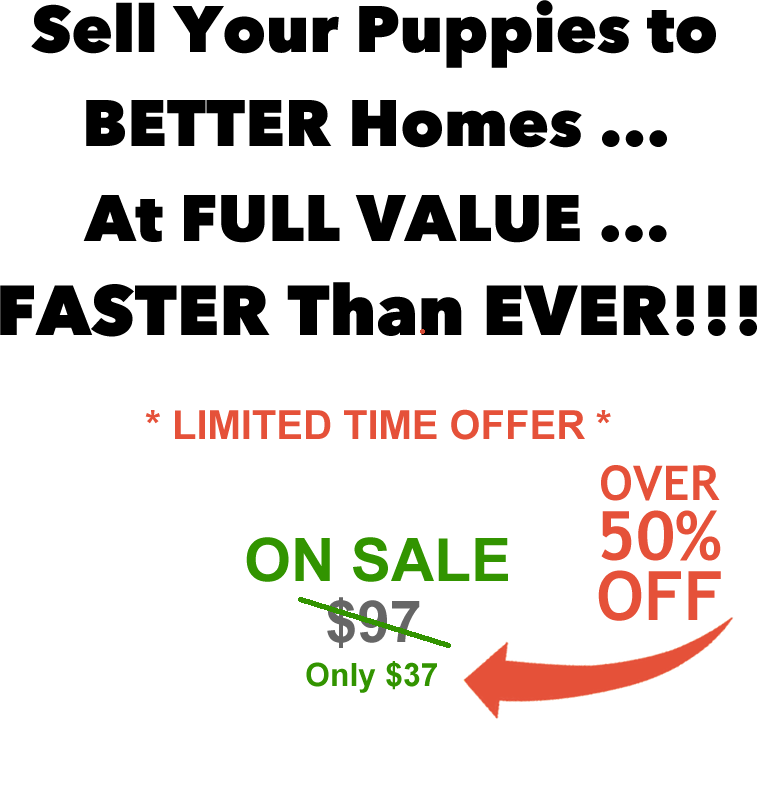 P.S Remember, I'm shouldering ALL the risk of your purchase with a 30-day 100% money back guarantee. You've everything to gain and nothing to lose… so get the Puppy Advantage System now while it's fresh on your mind.